Sponsored by:
OKLAHOMA HIGHWAY PATROL, OKLAHOMA STATE TROOPERS ASSOCIATION, and OKLAHOMA ELKS MAJOR PROJECTS
Join the Cadet Lawman Facebook group and stay in contact with cadets and staff.
Cadet Lawman Academy gives selected high school seniors-to-be a first hand taste of what it takes to be a Trooper with the Oklahoma Highway Patrol . The young men and women experience training in precision driving, traffic and boating law enforcement, firearm instruction, self-defense, and law enforcement history.
The week-long program is held annually the first full week of June. The week is spent with Troopers, Police Officers, Dispatchers, and other law enforcement and medical personnel.
Many who attended the Cadet Lawman Academy in their teens are found in today's ranks of troopers.
---
How To Attend
Complete the online application and follow the link to the "Endorsement Section". Obtain the required signatures then submit before April 1st.
Available to Oklahoma high school students only, during the summer between their Junior and Senior year.
---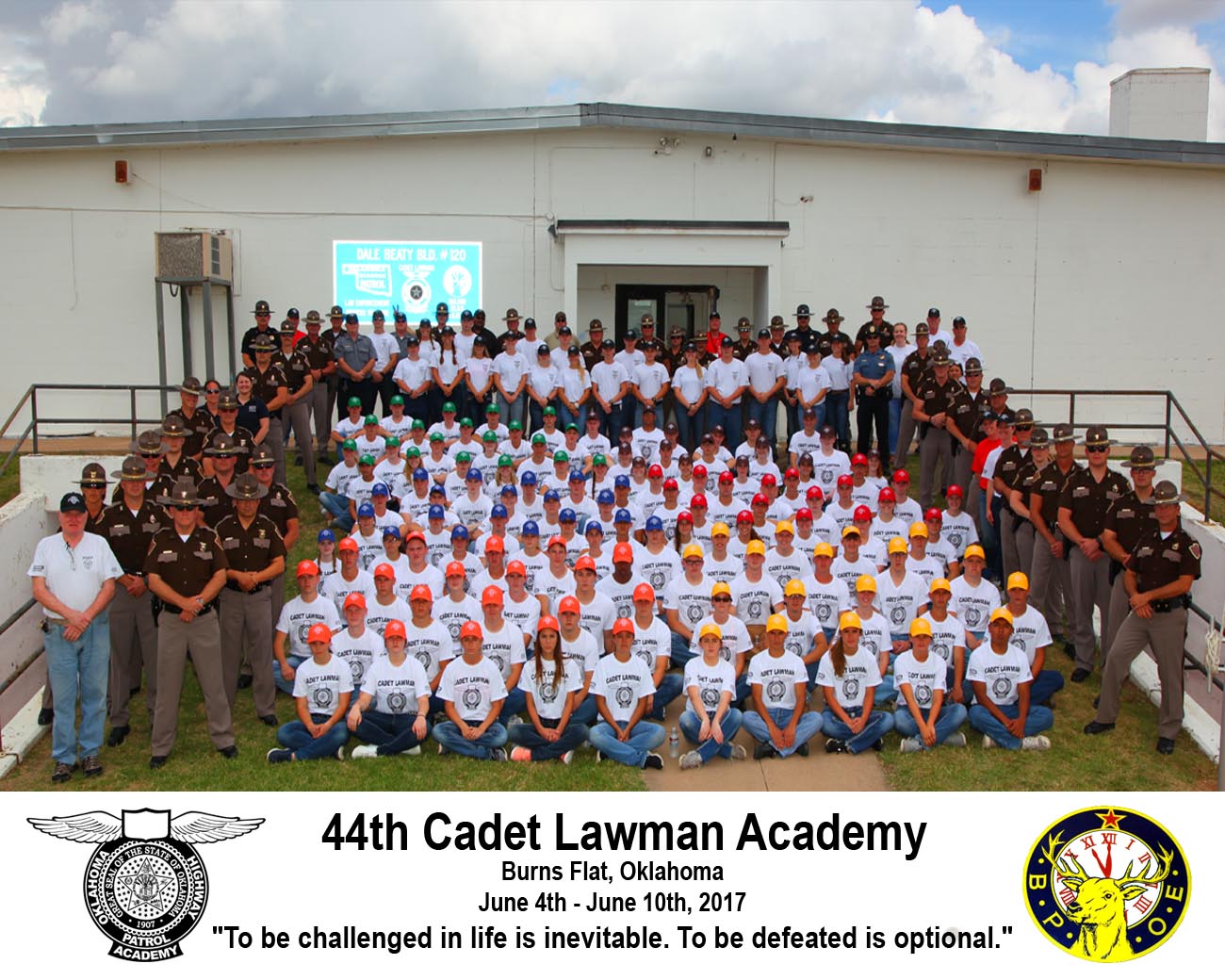 114 Cadets - 37 Girls and 77 Boys

---
History of Cadet Lawman in Oklahoma
In 1973, Oklahoma Highway Patrol Lt. Bill Price and Lt. Bill Hollars went to Kansas to observe a similar program.
It involved mostly classroom work with limited hands-on activities.
Cadet Lawman was started in Oklahoma in 1974 and co-sponsored by the Jaycees and the Oklahoma Highway Patrol - Safety Education Division. The first year 39 young men attended Cadet Lawman at the Robert R. Lester Training Center in Oklahoma City.
In 1976 the Jaycees and the Oklahoma Elks Major Projects sponsored Cadet Lawman with the Oklahoma Highway Patrol - Safety Education Division. Also in 1976, 3 girls attended the academy along with 44 boys.
The program moved, in 1977, to the former Clinton-Sherman Air Force Base in Burns Flat, Oklahoma and resided at this historical base for 41 years, through the 44th academy in 2017. Western Technology Center in Burns Flat, Burns Flat - Dill City Schools, Elk City Elks Lodge, Quartz Mountain Fun Park, Foss Lake State Park, Burns Flat BFF's, Retired Troopers, and many other people helped year after year.
In 2018, Cadet Lawman was moved to the Campus of Connors State College in Warner Oklahoma.
Today, Cadet Lawman is sponsored by the Oklahoma State Troopers Association, the Oklahoma Highway Patrol, the Oklahoma Elks Major Projects, and CUDD Pressure Control along with many other behind the scene helpers.
In June 2017, 114 young men (77) and women (37) completed the 44th Cadet Lawman Academy.
From 1974 - 2017 4945 cadets have attended Cadet Lawman Academy.
The eligible applicant must be:

an Oklahoma resident between their Junior and Senior years in high school,

in the top half of their class scholastically,

physically able to compete in all activities during the week long program,

a completed Cadet Lawman Application form and current picture,

an OSSAA medical physical dated July 1, of the previous year or later,
(physical has to be valid through the dates of the Academy)

a signed endorsement on the application from the parent or guardian,

a signed endorsement on the application from the high school principal or superintendent,

a signed endorsement on the application from their Elks Lodge president,

a signed endorsement on the application from an Oklahoma Highway Patrol Trooper,

the candidate must believe in the Elks principles of Law and Order, and service to God and Humanity.
---
When and Where
The Academy is held the first full week in June, starting on Sunday and ending with graduation exercises on the following Saturday.
Applications can be printed from here starting in January, and mailed in. The application deadline is April 1st.
The Cadet Lawman Academy is going to be held at Connors State College in Warner, Oklahoma.

---
Sponsors and Costs
Oklahoma Highway Patrol, Oklahoma Troopers Association and Oklahoma Elks Major Projects
The cost of the program is paid by the Oklahoma Highway Patrol, the Oklahoma Troopers Association and the Oklahoma Elks Major Projects who all come together to sponsor the program. The program is FREE of charge to the students except for some spending money.
In most cases water, soft drinks, chips, and supplies are donated by people or companies. Some include CUDD Pressure Control,
and COHPS - Concerned Oklahomans for Highway Patrol Society.
---
Training
Every cadet receives instruction in firearms, defensive driving tactics, history of law enforcement, laws of arrest,
radar enforcement, aircraft and boating safety, and the responsibilities of a citizen.
---
Personal Appearance
Each cadet will have a neat haircut. No exposed jewelry is to be worn except watches and rings.
A well groomed, personal appearance will be stressed throughout the week.
---
Accommodations
Rooms are heated and air conditioned. There are adequate rest room and shower facilities, a clean modern dining room,
and well-lighted classrooms. Ball diamonds, volleyball and an outside area for recreation are available.
---
Food
A balanced diet of good, wholesome food is provided. Table manners are stressed.
Western Technology Center in Burns Flat prepares and serves most all meals we have during the week.
Emergency Endorsement
Parents will need to give "authorization of anesthesia and performance of emergency operations and dental care". This permission will be used ONLY in case an emergency arises. The Troopers in charge are very safety conscious, and strict discipline is adhered to at all times.
---
Questions
If interested persons have further questions or desire applications, they should contact their local Elks Lodge.
If there is not a lodge in your area, contact a State Trooper.
---
Selection Process
The final selection of cadets is made by a committee from the Oklahoma Highway Patrol and Elks Lodge. The applicant will be notified if selected. Candidates not selected will also be notified and placed on an alternate list. An alternate will be called to fill any openings.
---
Cadet Lawman Staff
The Cadet Lawman Staff will be men and women of the Oklahoma Highway Patrol and personnel from other law enforcement agencies.
Staff members are highly qualified and skilled in the many phases of law enforcement.
---
Applications
(405) 295-5001 or E-Mail
The application must be COMPLETED IN FULL.
---
Thank the Elks for their continued support.
Also Special Thanks to:
---
Copy any of the photos you want. You don't have to purchase from the site, they are only there so you have access to them.
---